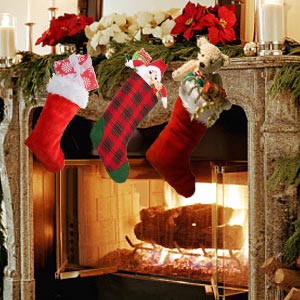 Warning: This post is full of pictures and Christmas pudding.
I know these Christmas pictures are a bit late, but I don't know about you all but I'm still a little bit in the Christmassy spirit. Watching Miracle on 34th Street over and over again doesn't help. The Christmasses in my house are always a laugh and traditional.
Mummy Second Hand Rose takes on the role of Mrs Christmas and is determined to create the perfect family Christmas for us all, with new recipes from the Hairy Bikers every year and an obscene amount of mince pies, it is certainly a treat.
Normally we go and sit on my Mum and Dad's bed, including the cat in the morning to open are stocking presents. The fact tha
t we are all adults seems to be forgotten at Christmas. I think Mummy and Daddy Second Hand Rose are happy we don't wake them up at 5am anymore like we used to, the older we get the later we wake them up. Ten years ago it would have meant jumping on their bed and waking them up, now it means staggering into their room with a hell of a hangover. This year was different though due to my sister coming home from Rome for Christmas Day, I think she just didn't wanna miss out on Mummy Second Hand Rose's roast potatoes, trust me they are amazing.
So off Grandma Second Hand Rose and Daddy Second Hand Rose went to the airport while my brother slept soundly and I raced around finishing bows on presents. As I mentioned in my Christmassy posts I took on the full responsibility for practically everyone, Father Christmas seemed to have the week off. I got to sleep at 6.45am on Christmas morning and had Dad's Army to keep me company all night while I was wrapping presents. I don't normally leave it so late and the people that wrap their presents on the 1st December have put me to shame, but it was Mr.Boyfriend's birthday on the 23rd, don't get me started on that.
So this year once everyone had come back from the airport and we were showered with hugs from my sister, we all sat down to Christmas dinner. Well firstly I set the table which is always my job every year. If I leave it up to my Dad the cutlery is the wrong way round and it looks like a normal bog standard day. Well me being Mummy Second Hand Rose's daughter, I make it all Christmassy with a gold theme complete with gold bows and sequins and little gifts for everyone that our parents had bought which consisted of the amazing Lindt chocolate balls. I had eaten mine before the gravy was poured on any meals.
Due to me being a vegetarian and my sister being a selective vegetarian ie. if there is something she fancies she will eat it, our Mum lovingly prepared three meals. My parents, brother and Grandma had the usual Turkey and pigs in blankets, while my sister had duck and I had a plate of Quorn pigs in blankets. All our meals were complete with gorgeous roast potatoes, scrumptious stuffing balls, huge Yorkshire's and lovely vegetables and gravy that would make Nigella quake in her boots.
Every year I try and make my family do the crackers before the meal and wear the hats throughout it but they always refuse, for some reason they don't want to re-inact The Royle Family Christmas.
After we all stuffed ourselves with probably one too many roasties, we decided to have Christmas pudding later. So we all slowly went into the sitting room rubbing our tummy's to open some presents. When we were younger it all used to be recorded on video, but since we learnt to argue and are not as cute as we used to be it hasn't been recorded for a few years. This year I took on the role of being the camerawoman and recorded a whole hour of our Christmas, most of it was of our cat. Our present opening always takes a long time with lots of 'Aww thankyou' and cuddles from Mummy Second Hand Rose.
One of the presents I was keen to be opened was one of our cat's. I bought him a Father Christmas outfit which you must admit, he looks absolutely adorable in. I also bought him a grooming kit complete with different types of grooming brushes, a cat nip mouse, a new collar and a bowl. I glued gems on the front which spelt out his name, yes he is extremely spoilt.
All the presents for us were lovingly wrapped with bows by Mummy Second Hand Rose. Presents from our Grandma took about 10 minutes to open and some sharp scissors. She uses around a roll of sellotape for each present bless her, so she's one of WHSmith's most valued customers and is responsible of a sellotape shortage in the country.
After opening thousands of presents and I mean thousands we then had a gorgeous cold dinner of Mummy Second Hand Rose's bread which is a treat in itself and cold meats, lots of different cheeses and my favourite pickled onions that I could happily eat a whole jar of. We pulled the crackers this time and had the usual rubbish jokes, the sighs and me trying to swap my present for a decent one, because everyone needs a miniature pen that is even too small for The Borrowers to use.
We decided to have the Christmas cake instead of the Christmas pudding which we saved for Boxing Day. I have now taken the fondant baton from Mummy Second Hand Rose and it is now my job to decorate the cake that we made in October. I let her cover the cake with marzipan and icing though because with my sweet tooth we probably wouldn't have enough left, plus she is the queen of covering cakes.
Lets just say I spent a long time over the cake, cutting out hundreds of fondant stars, painting layers on the cake and trying to make bows on wooden spoons. I was pleased with the result, but it wasn't the picture I had in my head. I wanted to make a big bow but the last bit on the top was driving me crazy, so Father Christmas and his sleigh rescued me. All the compliments for it and the fact that Eastenders was on made me stop working on it on Christmas Eve.
After we stuffed our faces yet again we retreated to the sitting room and finished opening our presents and subjected my sister's boyfriend to the rest of our Christmas, poor bloke. At the end of the present opening we opened our stocking. My stocking along with my brothers and sisters stocking are always a treat, normally this is the only thing that my Dad contributed to. We always receive funny and absolutely useless presents that range from cures for burping to a reindeer that poos chocolate beans, lovely. My Mum took hold of the stockings this year and our presents were useful ones for a change. I got a cupcake book which is obviously a hint for me to make more and our traditional Lindt Father Christmas that we have got every year for as long as I can remember. I've eaten it all by Boxing Day for as long as I can remember too.
Father Christmas left stockings for my parents this year. The presents included a baldy buffer and baldy polish for my Dad and a willy soap on a rope for my Mum. I think Father Christmas is getting his own back for there being a half eaten pork pie left for him. Our cat had also been a good boy this year and he got a stocking full of a Christmas dinner for cats, some flashing balls and a little toy that he has fallen in love with, I think the cat nip in it probably has something to do with it.
In the evening we sat down to watch some Christmas tv with Chocolate biscuits and mince pies within arm distance. We had a great Christmas full of laughter, happiness and sausage rolls.
I got some really good presents this year ranging from earrings to fairisle leggings and some earmuffs to keep my ears warm due to my lack of hair this year. I got the Manolo Blahnik and Chrisitan Lacroix book that I blogged about here, Father Christmas is obviously a fan of my blog. I put a book recommended by Kathy B on my wish list called The Night before Christmas, which I now can't put down. I was given some Soap and Glory products, a Lush Magic Wand that makes a lovely bubble bath and the 12 Days of Christmas bath set recommended by Lucyy Writes, which has already given me many lovely hours in the bath, even if I do look like a prune.
I left a note out for Father Christmas asking him whether I could have some Christian Louboutin's or Jimmy Choo's, I'm not really bothered. I got a reply too, Father Christmas seems to have handwriting a bit like my Mum's. He said he struggled to get Christian or Jimmy to get their bums in gear to make me some beautiful shoes, but he will try and get them to make me some lovely ones for next year, I'll hold him to that.
One of my favourite presents was a peacock brooch that Mummy Second Hand Rose found at a market, its beautiful and already has a place on my fur coat. Grandma Second Hand Rose made me a little special frame with my favourite actor, Marc Warren in who I have been lusting over for years. It now has a permanent place in my room and I spend many hours staring at it.
A few days later I saw Mr. Boyfriend and carefully opened his beautifully wrapped presents. He has this nack in buying me the most amazing presents. Last year when he was trying to woo me he bought me the most gorgeous necklace which is so me, obviously his amazingness in getting me presents had no bearing on me becoming his girlfriend. He bought me an old fashioned style case, some gorgeous gold bangles and a beautiful butterfly brooch, so don't try to woo him ladies, he's all mine.
I had a lovely Christmas day and Christmas week spent stuffing my face and watching our normal Christmas feel good movies including Mr. Bean's Holiday, Up and Crocodile Dundee. I hope you all had a lovely Christmas and got some fabulous presents, and enjoyed the hundred mince pies you ate as much as I did.
Second Hand Rose
XxxX