I adore every era of fashion, but particularly the 1920s to the 1960's, so when I heard that there was a film to be made with more 1930's outfits in it then the
V&A
, I got my bright red lipstick out and ditched my mini skirts. The film is W.E. pronounced 'WE' which came out on the 20th January. I know I'm a bit late in blogging about it, but I was pretty pre-occupied by the Asos sale. Asos you will be the death of my bank account.
W.E is co-written and directed by Madonna and tells the tale of two love stories. And no sadly it doesn't contain any leotards or leather cone bras.
The story is set in 1998 through the eyes of American Wally Winthrop (
Abbie Cornish
), no she wasn't named after 'Where's Wally?', her mother was a fan of Wallis Simpson.
While Wally's abusive marriage is collapsing, she becomes obsessed with ' the greatest love affair of the 20th century.' No I'm not talking about Den and Angie from Eastenders, it was the love story between Wallis Simpson and Edward VIII, who was first in line to the throne at the time.
Wally becomes entranced with the story and is transfixed by how a man can love a women so much to give up everything. She joins in the excitement of the auction of the Duke and Duchess of Windsor's possessions and becomes mesmerised by the exquisite and personal artifacts on sale and takes several visits to the auction. Wally walks through rooms of furniture including the George III mahogany library table, at which Edward signed his abdication.
At the auction she meets the very handsome Russian security guard Evgeni played by
Oscar Isaac
. Whilst Wally is walking around the auction touching their possessions scenes cut to Wallis and Edward's relationship, which through a series of letters between them Wally finds out that there relationship wasn't so rosy. The film is called W.E. because that is how Wallis and Edward signed their letters from each other.
When Edward VIII played by the hunky
James D'Arcy
has to take up the throne when his father dies, he has to decide between ruling the country and doing what is expected of him, or the women he loves. Wallis was seen as a wrong partner for him due to her already two failed marriages and people thought she was driven by the power and money.
He decided to abdicate the throne, so his brother Albert (George VI) became King. This meant he could marry Wallis and they became the Duke and Duchess of York.
The beautiful actress
Andrea Riseborough
portrayed Wallis in 1936 with over 80 costume changes on set, lucky lucky girl. Couture designers including Balenciaga and Christian Dior and milliner Stephen Jones had the job of recreating Wallis's outfits, with many of her dresses in museum archives to drool over.
Edward VIII gifted Wallis with lavish jewellery including cross bracelets that he gave her on different occasions to celebrate their love, including one to wear for their wedding day. He had jewellery especially designed by himself full of diamonds and sparkle commissioned to give to his love, I hope you're listening Mr. Boyfriend.
Edward and Wallis got married in Paris on the 3rd June 1937 and lived their lives together in Paris, until Edward's death on the 28th May 1972. For her wedding day Wallis wore a simple dress by Mainbocher. They had a very simple and quite wedding, Kim Kardashian's it was not.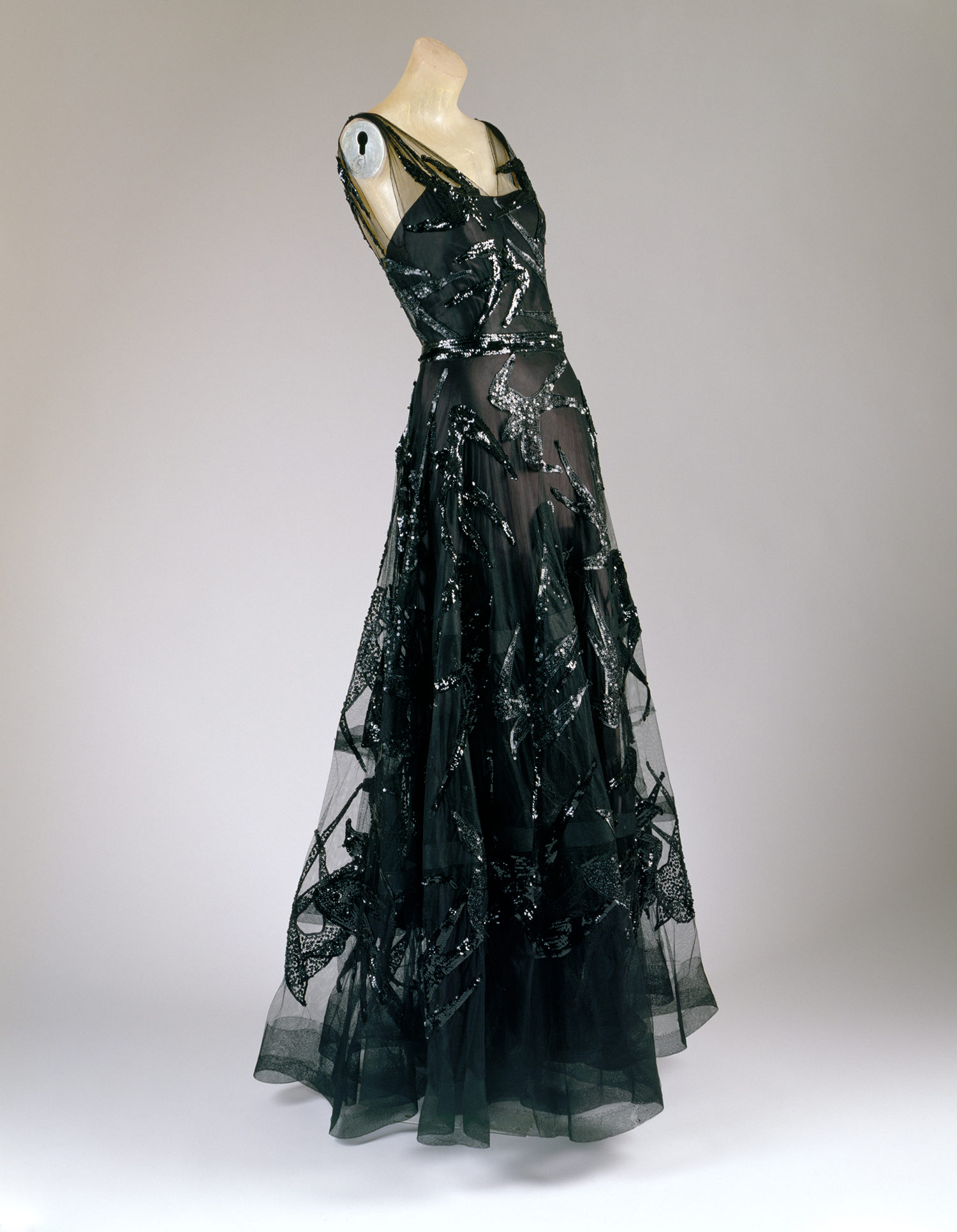 In real life Wallis was a huge fan of French designer Madeleine Vionnet, who was famous for inventing the bias cut making slinky figure hugging silk dresses. Madeleine Vionnet opened her own fashion house in 1912. Madeleine devised the bias cut in the 1920s using a miniature model, she also made the halter and cowl neck popular. Using her techniques Madeleine made some beautiful gowns in silks, crepes and chiffon's, creating a lot of flare and fluidity in the gowns. You can safely say that bustiers were no more, women could actually eat and breathe when they went out now.
Wallis was also a fan of Italian designer Elsa Schiaparelli who had a love of rich fabrics and fantasy clothes, her designs were the Lady Gaga of the 30's including a shoe hat and a skeleton dress. No telephones or a coat of frogs were to be seen here though.
Elsa got inspiration from cubist and surrealist artists, including Salvador Dali and Marcel Duchamp. Elsa began her career with knitwear and is known for her famous navy sweater with a contrast cream neckline and cream bow knitted into the design, its great even though it does remind me of a sailor's uniform.
Elsa regularly designed different variations of the little black dress and would accessorise with funky hats made to appear as mutton chops and ice cream cones. Elsa used bright colours including shocking pink, hyacinth blue and turquoise, which women who were not a fan of all the slinkyness of Vionnet favoured. Elsa was also famous for the wide shouldered masculine suit that was made popular throughout Hollywood by Marlene Dietrich. Suits were adorned with shoulder pads way before Crystal Carrington got a look in, which were favoured during the war. Elsa collaborated with Dali and made some exquisite dresses including the skeleton dress, a tear dress and a lobster dress, along with a shoe hat. Gaga eat your heart out.
On the catwalk and in the high street elements of 30's clothes are appearing, including knee-length hems, prim collared tops and frocks and high waists. No shoe hats or skeleton dresses just yet though. Ralph Lauren, Jason Wu and Paul Smith. They've all obviously been sitting with the Kleenex watching Gone with the Wind, with a big tub of Popcorn and a bag of Maltesers.
Antique looking jewellery is also popular, with New Look and Asos having some great pieces. The high street is full of mid-length pencil skirts, which you can wear with a wavy up do to re-invent the Wallis look. There are also a lot of knee length dresses with prints that have high waists that will accentuate your curves.
New Look £34.99
If you feel like having a go at making some 30's style clothing, you can find some great patterns on
eBay
and you can buy some fab Vogue vintage patterns here at
Sew Direct
.
The Half Moon Manicure was a popular nail trend in the 1930's which I have blogged about
here
. I've experimented this trend a few times now with more nail colours.
The 1930's were full of new fashionable creations from the bias cut to the zip. The female figure became more svelte with high fitted waists and mid-length skirts. Clothes were neat and feminine by day and gorgeously slinky and glamorous by night. Wallis Simpson was a great style icon of the 1930s, and is still used as inspiration for designers today. I love the 1930's from the fashion and hairstyles to the furniture and foods. I may not have a Prince to abdicate the thrown for me, but I do have my very own love affair with the 1930's, which I think I'll settle for. Well for now anyway.
Second Hand Rose
XxxX