Last week the fashion world got together to celebrate the opening of 'The Museo Gucci' the Gucci Museum in Florence,Italy. The museum didn't open to the public until last wednesday (the 28th) but some of the very lucky people including the goddess of fashion Anna Wintour had a sneek preview.
The museum was opened to celebrate Gucci's 90th Anniversary. Are you sitting comfortable? Then I will begin. Once upon a time a man from Florence called Guccio Gucci went to London. He worked as a porter in The Savoy hotel in London. While he was there spending his days transporting people's luggage,he saw the potential for luggage to be a must have for all the high and mighty guests. Guccio returned to Florence and began his own shop in 1920 that sold good quality leather goods with lots of classic styling under his surname 'Gucci'. Or as my Dad says 'Guk-ee'. Guccio employed workers that were meticulous and that maintained a traditional look to the products. When the business got bigger,sewing machines were introduced. I bet the workers were pleased,all that hand sewing does nothing for your hands.
Guccio had three sons,all with names that I had to double check three times that I had spelt right. What is it with these Italians and complicated names? So,Aldo,Vasco and Rodolfo helped their dear old dad to expand the business and opened up stores in Milan and Rome, as well as other shops in Florence. Gucci stores were popular because they supplied beautifully crafted leather items,such as handbags,shoes and his iconic ornamented loafer. They also supplied lovely silks and some knitwear in a signature pattern.
During World War II the company had to stop making leather handbags because of the shortage of leather. So instead they made handbags out of cotton canvas, which was given a signature look with a double G symbol and red and green bands. After the war a Gucci crest was designed,which included a shield and a knight in armour,surrounded by a ribbon inscribed with the family name. No sign of shoes or handbags there then. This became a symbol for Florence. By 1953 Guccio's two sons Aldo and Rodolfo expanded the business with offices in New York. The brand was so popular by this time that film stars and globetrotters were seen with Gucci bags,giving the brand a universal audience. You missed out there Phileas Fogg,you could have had some lovely luggage for your trip. Gucci expanded their brand to clothing, footwear and other accessories that celebrities were seen constantly strutting about in.
Gucci used a lot of controversial fabrics including pigskin,calf and exotic animal skins. Bamboo was first used to make handles in 1947, while waterproof canvas and satin were used for evening bags. In 1960 Gucci introduced purses made with a shoulder strap, with a snaffle-bit decoration. In 1964 they introduced luxurious patterns starting with a butterfly pattern that was put on silks, followed by lovely bright floral patterns. In 1966 they updated their iconic loafer with a snaffle-bit decoration.In 1970 the legendary and extremely popular Gucci Rolls-Royce set was introduced. Anyone who was anyone was seen with a gucci luggage set. Over the years Gucci expanded into watches,jewellery,ties,glasses and belts with the double G logos. In 1990 they hired Tom Ford to make a ready to wear line and since then Gucci has been a staple for any wardrobe. By 2009 there were two hundred and seventy eight stores around the world and Gucci is the most popular brand that is copied by the Del Boys of the world. The plastic label whores of the world revel in the fakes and love to pretend they have real designer. I'm sure you have met someone like this,everyone has. They do my head in.
Gucci has become 'The House of Gucci' and is one of the most lusted over labels. To be honest, I'd rather have a pair of Christian Louboutin heels then some luggage or a handbag that will have bitchy girls and queens around the world debating whether it is fake or not. But each to their own. So that is the Gucci story in a nutshell. Well a pretty big nutshell really.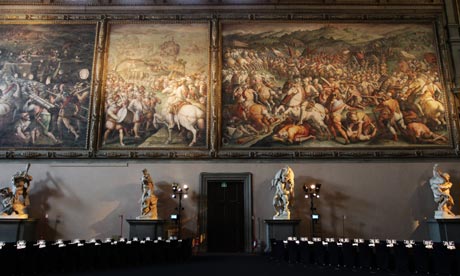 The museum walls and ceillings are covered in 15th century
Vasari
murals telling the history of Florence. The museum contains some iconic pieces including a Gucci upholstered-car from the 1970s,early edition symbolic luggage and some monogramed scuba diving slippers. A wide range of things are on display including pigskin luggage ,bamboo handbags,sports equipment, trademark accessories and some beautiful clothes.Celebrities have donated some pieces, such as Naomi Watt's evening gown,Sophia Loren's handbag and Hilary Swank's Oscar gown. There are some beautiful black and white photographs lining the staircases,one of Sophia Loren in a crowd outside a Gucci store and another one of Liz Taylor in a white fur. The museum has had some mixed reviews, with people saying there was not enough information on the family,the history of the brand and information about the pieces.That's what Wikipedia is for.
The museum was opened with a black carpet with ivory candles,leading to the Palazzo della Mercanzia-some great words for Scrabble there. Celebrities were treated to cocktails,dinner and Blondie taking to the stage. Like all museums there is a shop.But this isnt the normal museum shop with bookmarks and badges. It contains a huge mix of designer handbags,accessories, Iphone and Ipad cases and 95euro t-shirts.
So if you need an excuse to go to Italy and gorge on pizza and pasta,this is a good reason to go and go crazy over all the beautiful items. Guccio Gucci was one clever man. I'm sure he never ran out of suitcases to take on holiday with him.
Second Hand Rose
XxxX